Leading
Anti-Counterfeit

Solution for Cannabis & Hemp

Over 100 companies trust CannVerify to protect their products and brands. CannVerify is the first anti-counterfeit system of its kind, developed specifically for the cannabis and hemp industries, and is the current leading platform for brand protection.
Protect your revenue, reputation and customers
Revenue Loss Prevention
Counterfeiting can cause millions of dollars in revenue loss. Most packaging can easily be duplicated and ordered online making it easy for anyone to sell counterfeit goods.
Reputation Protection
In addition to revenue loss, counterfeiting can result in irreversable damage to a brand's reputation.
Customer Safety
Ensure your customers only have access to tested, safe and compliant products. Counterfeit products not only put your brand at risk, but your customers' health at risk as well.
A proven & effective
anti-counterfeit

system

Our unique approach to anti-counterfeiting combines several key features to create one robust and effective system. Each one of our tamper proof, security seals is connected to our online platform — creating a complete, closed loop system.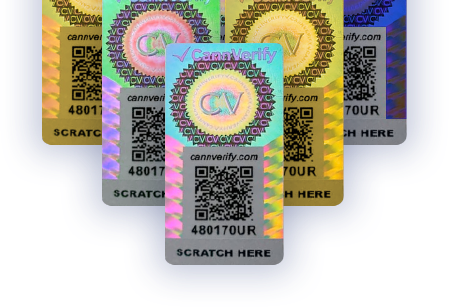 Custom branded holographic, security seals
Each one of our tamper proof, security seals features a unique serial number, a QR code and a hidden verification code. Seals can be customized with your brand's logo and can be cut to any shape and size. We can create a custom design for you at no cost, or you can provide your own design if preferred. All our seals include multiple layers of security, ranging from 3D effects to hidden features.
Get a Quote
Anti-Copy Protection
We've implemented several unique, key features that make our seals copy-proof and allow us stop reproduction or duplication attempts.
2-Step Verification
Verifying a product is a 2-step process. First, scan the QR code to view product information. Then, enter the hidden scratch off verification code to verify the authenticity of the product — completing the verification process.
Our hidden scratch off verification code allows your products to be displayed publicly and prevents reuse or duplication.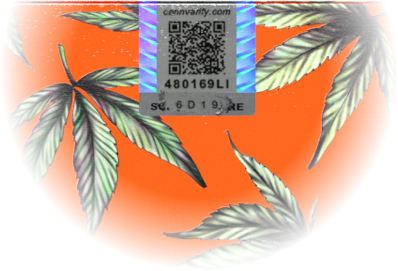 One-time Use
With our One-time Use feature enabled, serials can only be verified one time. Customers can scan the QR code (or manually enter the serial number) as many times as they want to view product information, but once the hidden scratch off verification code has been entered and the product has been authenticated, the product cannot be scanned or verified again. This prevent seals from being duplicated or reused.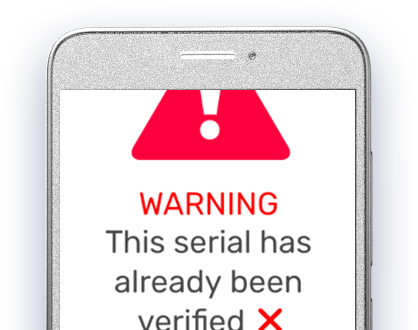 LiveLabel Technology
Our LiveLabel technology allows you to update any serial in real time. Deactivate serials at any time in the case of lost or stolen batches. Any attempts to reuse a serial can immediately be stopped by deactivating that serial.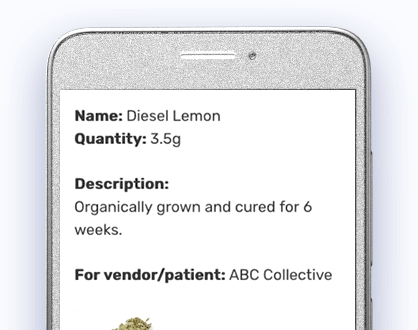 Trademark Protection
All our CannVerify seals come with trademark protection. Our global trademarks allow us to stop reproduction or duplication of any CannVerify seal. We actively monitor for trademark infringement and our legal team takes action against any attempt to recreate or reproduce our seals.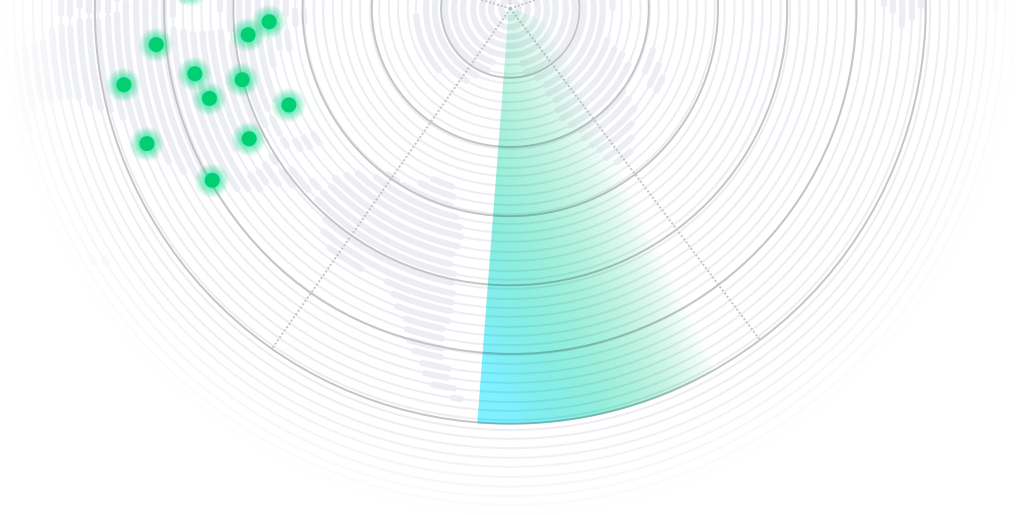 Smart Alerts &
Active Monitoring
We actively monitor your serials and are alerted when our system detects any suspicious activity. Your customers are also alerted if a serial has been flagged.
Active Monitoring
Our system monitors serials for irregular patterns that might lead to suspicious activity, such as reuse. When our system detects irregular activity, the serial is flagged for review by our internal team. If the serial activity is found to be suspicious, the serial will be deactivated.
Smart Alerts
Our system notifies us immediately when it detects any unusual activity. Your customer will also see an on screen warning notification if any unusual activity is detected with a serial. Notifications include high view count alerts and past verification history.
Blockchain layer
The CannVerify platform uses a blockchain database as an optional layer to connect a physical product to the digital world. Serials get registered on the blockchain as NFTs when activated and ownership of products can be transferred to other users through the blockchain.
Learn More
Ready to get started?
Request a demo to see how your brand can get started today.
Request a Demo
Our Partners
© CannVerify